Click here to see all pictures from February 2008

Dr Who's Home
More Pictures by QTEK 9100

It was an interesting day but the only picture I got was bad, Perhaps at some point I can go back to the places I saw today to capture the pictures I saw this morning.

Today started with a 20 mile bike ride. Denton->Manchester->Cheadle->Stokport->Denton. The sun was out and the traffic wasn't which was good. It was cold but it was one of those wintry sunny days where the sun spreads a gold hue on everything. The first missed picture was of the Islamic Academy on Upper Brook Street which is situated right next to a church that is crumbling or being knocked down. The image would have been good (I hope) with the sun passing through a stained glass window only because there was no roof on the church. Further down is a new building I haven't seen before which I assume is part of the hospital. It used to be a Happy Eater and sits on the angle between Upper Brook Street and Plymouth Grove. It wouldn't have been much of a pic without the sun glinting from the top of the building. Of course I was more bothered about peddling especially since I'd only completed 7 miles of the full 20 or 21.3 as I finally completed.

Later in the day this is where this picture came in. I have taken a picture of a police call box before which was at Crich's Tram Museum but I don't seem to have put it on here. It's a great day out and I would recommend it. There's so much to see and you don't have to be a train spotter to appreciate it which is similar to the Manchester Museum of Transport where you don't have to be a bus spotter to enjoy it. Anyway this police call box is at MOSI, whether it is a permanent fixture or not I don't know but we were off for the BodyWorlds exhibit which is Dr Gunther von Hagens exhibit of of corpses that have been put through his process of plastination in effect bodies that do not decay with their organs exposed to varying degrees supposedly to educate the layman about how the body works. To me they look too much like plasticine/plastic models of people. Perhaps it wasn't meant for me because there was nothing new here, the basic gist was smoking is bad, drinking is bad, disease does bad things to you and all three can kill you so all I can think is that's it's just pure Voyeurism or perhaps that's the wrong word, but there's a perverse interest to witness what feels like it shouldn't be witnessed which is a sliced up or open corpse, it's just been dressed up as education.

The other two interesting pictures today are of the Etape Hotel in Salford which is an weird block that looks part like a hospital and part like some strange mad European (Dutch I think) building with it's strange coloured outside panels of green blue and grey. Finally with all the building that's going on, on the East side of the Mancunian Way there's a University building in a state of part deconstruction which will probably be gone next time I have a chance to whip my camera out perhaps the reason why I like this is because you get a view into the building, able to see the rooms and offices as they were left, opened up in the same way as Dr Gunther von Hagens corpses perhaps, it's just that the buildings seem more interesting to me, maybe it's the fact that they describe more about people than their individual fragile selves.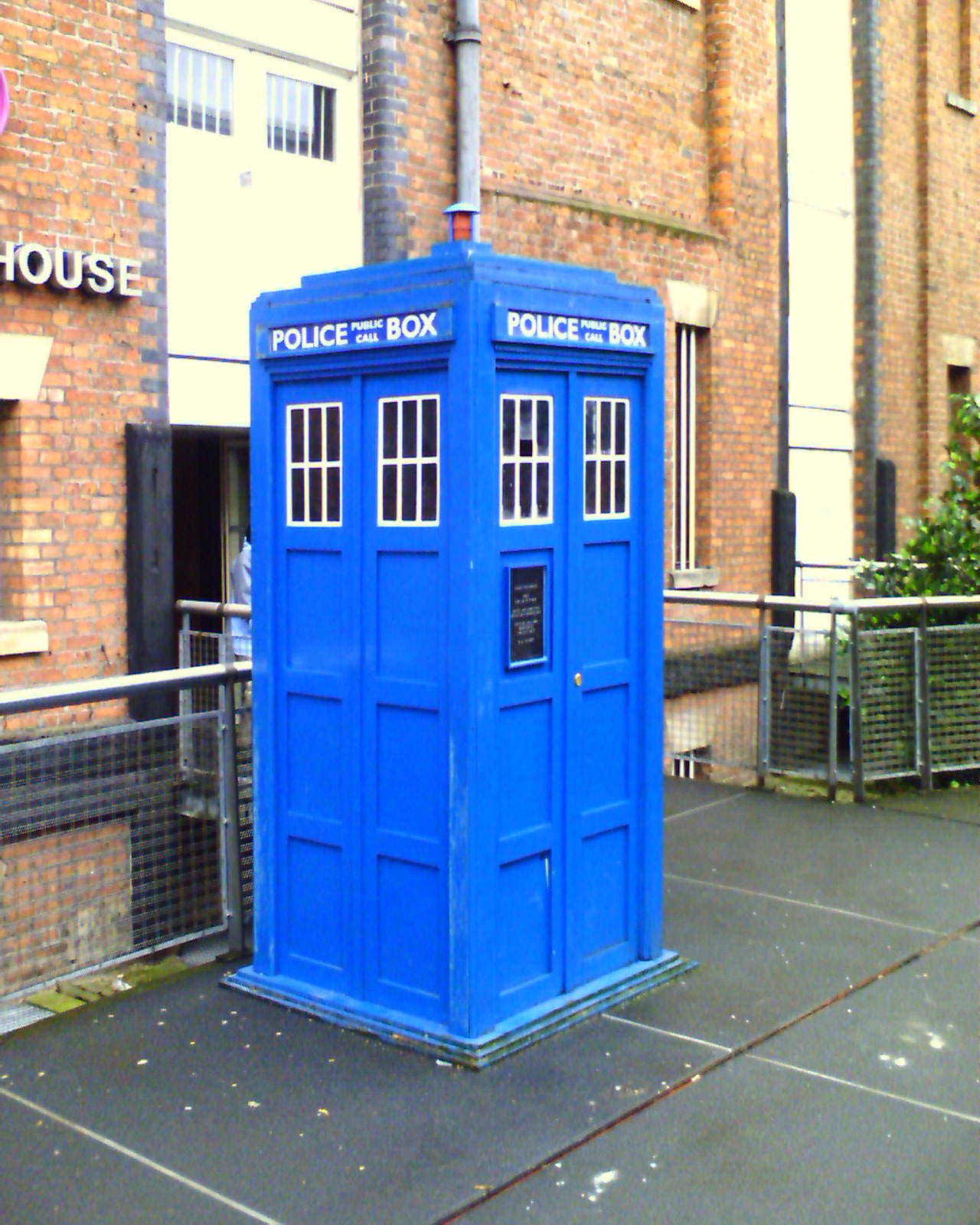 Tags: dr. who phonebox museum
2 comments have been left

Make a Comment
Comment Left By: Andy
Date 10:56 25 Feb 2008
The call box may have been something to do with the Doctor Who exhibition that was at MOSI until recently. Or maybe it is unrelated. I dunno.
---
Comment Left By: Zamyatin
Date 14:37 25 Feb 2008
I did suspect that it might as I knew about the Dr Who Exhibition, just wasn't sure if this a coincidence bearing in mind that I thought that the Dr Who exhibition was in a different place than BodyWorlds, I am probably wrong as the place they used to have the paid for exhibits was rather small but was part of the main building you enter to start whereas BodyWorlds was one magic mystery tour.
---